When planning a TV campaign, any good planner will look at the TV landscape as a whole. They will consider all options available, including linear and BVOD and (where possible) use a combination that best suits their needs.
BVOD may be included on a plan for a number of different reasons including:
1. Enhancing reach
One key reason for using BVOD is to enhance the reach of your linear TV campaign. Reach is important for communicating with buyers and non-buyers, existing customers as well as lapsed customers plus all potential customers. When it comes to driving reach, of all media channels available, linear TV still delivers by far the greatest potential for mass reach.
However, as TV viewing spreads across linear and on demand, TV's ability to deliver high volumes of cost-effective reach has changed and the importance of BVOD has increased. This is particularly true for younger audiences as their viewing is increasingly on-demand. This chart uses data from BARB's total TV planning tool to show how planning linear and BVOD together delivers higher levels of reach.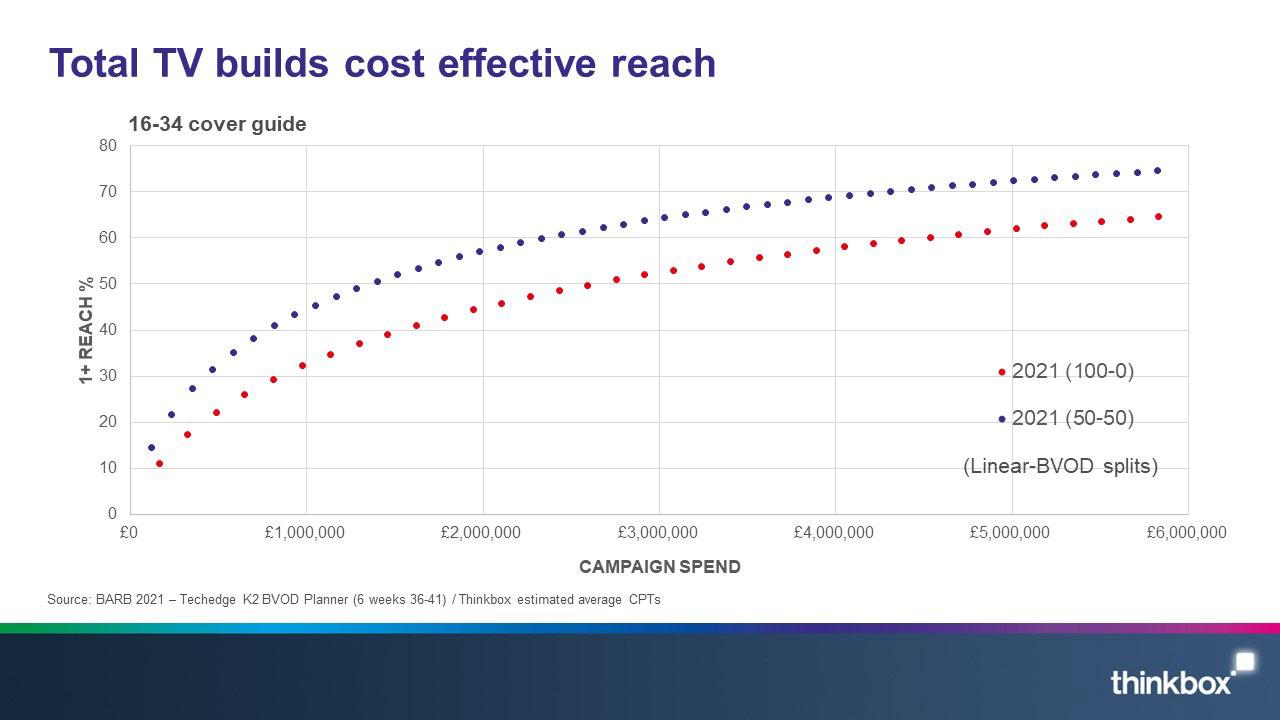 The key reason for this is BVOD's ability to reach lighter linear TV viewers. For people with busy lives, with little time to sit down and watch scheduled TV, BVOD viewing provides a convenient and handy service, meaning we can watch at a time that suits us. As you can see, lighter linear viewers tend to be heavier viewers of BVOD.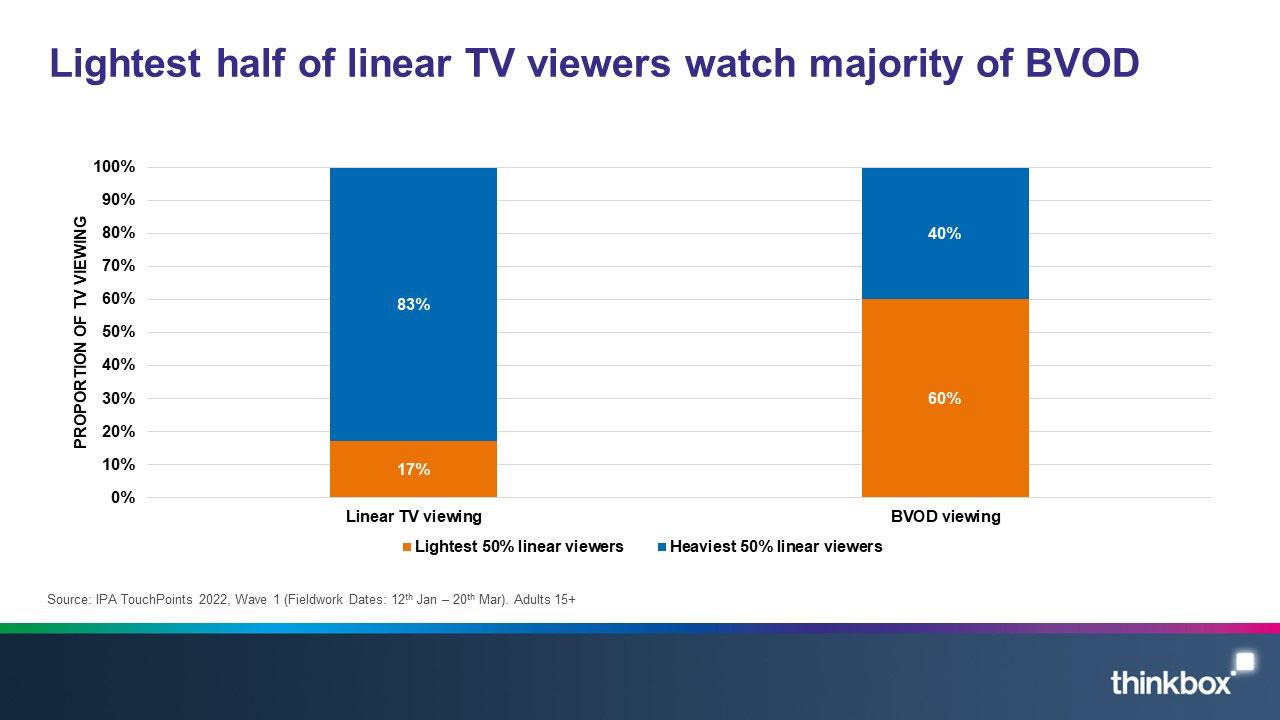 The trend towards BVOD has been increasing in recent years, particularly for younger audiences and so it's important to include it on your schedule.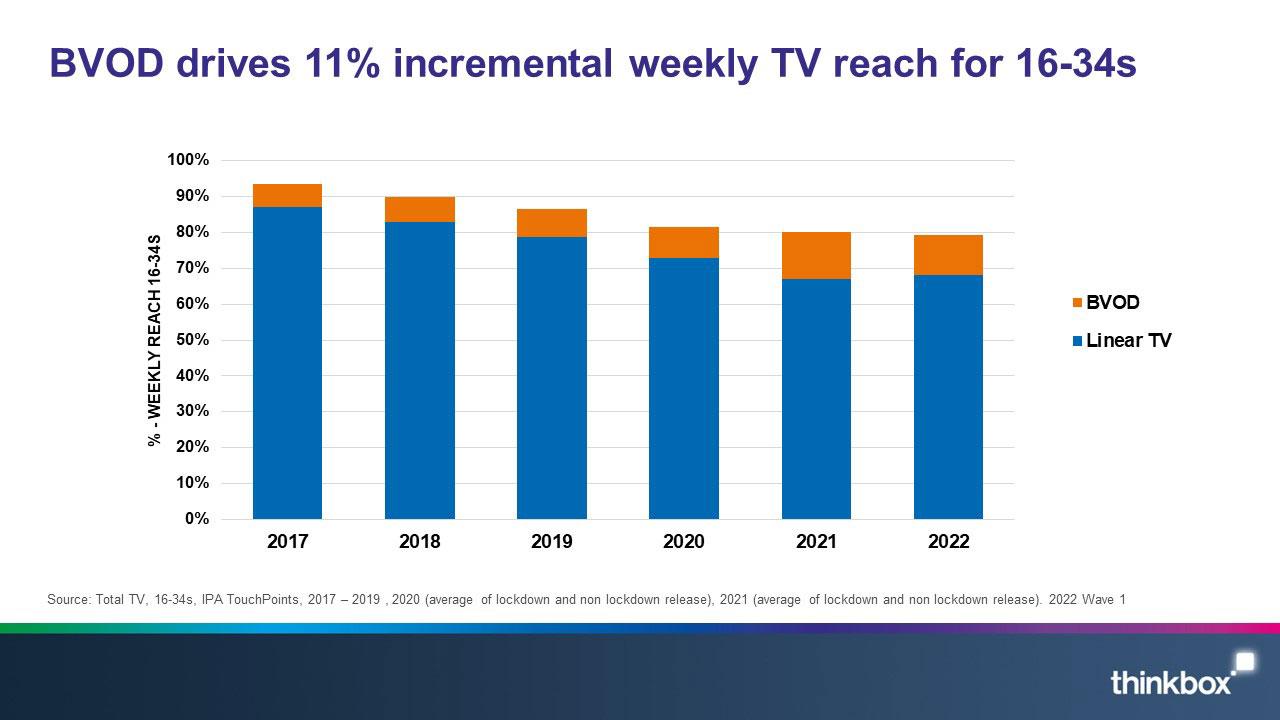 2. Cost effective access to programming
There may be programmes that you definitely want on your schedule - for example, Love Island or Bake Off or Premier League Football. It may be that these spots are outside your budget on linear TV but are affordable on BVOD. By adding BVOD to your schedule, you can now access these desirable programmes that otherwise are unaffordable. 
3. Enhanced targeting
Your reasons for using BVOD might be about accessing the various targeting opportunities available in this space. In BVOD, you can create custom audiences, target viewers based on their historic viewing patterns or use your own client data and match this with broadcaster data to target, for example, existing or lapsed customers. 
4. Testing a creative's impact
If you have a new TV ad, it's often a good idea to test the impact of this creative on BVOD before transferring it to linear TV.  It's also worth knowing that the view through rate of ads on BVOD sits at 97%.    
5. To use interactive ad formats
There are many different creative opportunities in BVOD which we'll be coving in the next section but if want to personalise your ad or make it interactive then BVOD is the place to be.
As you can see, there are many reasons to add BVOD to your TV schedule. It's important to take a holistic view of the TV landscape and recognise the importance of BVOD alongside other forms of TV. If you need some nickable charts with more info, you can find a deck here.