The metaverse aside, there is probably nothing more buzzy in UK media than FAST (free ad-supported streaming TV) channels.
Cheap to run—no great scheduling or transmission costs, while often leveraging third-party or older programming—they are envisaged as an extension of broadcast linear. They satiate similar 'lean back' need states and provide an important weapon in the reallocation scramble of viewing minutes amongst video suppliers as consumption continues on the path from broadcast to online.
Placed on free services alongside ad-supported on-demand video content, the growth of these properties in the US has been noteworthy, both as tools of the TV networks to transition linear viewing to online (Xumo/Peacock (Comcast/NBCU), Tubi (Fox) and Pluto (Paramount Global)) and to bolster the user interfaces of connected TVs and devices for video gatekeepers (Roku Channel, Amazon Freevee, Samsung TV Plus, LG Channels Plus and VIZIO's WatchFree).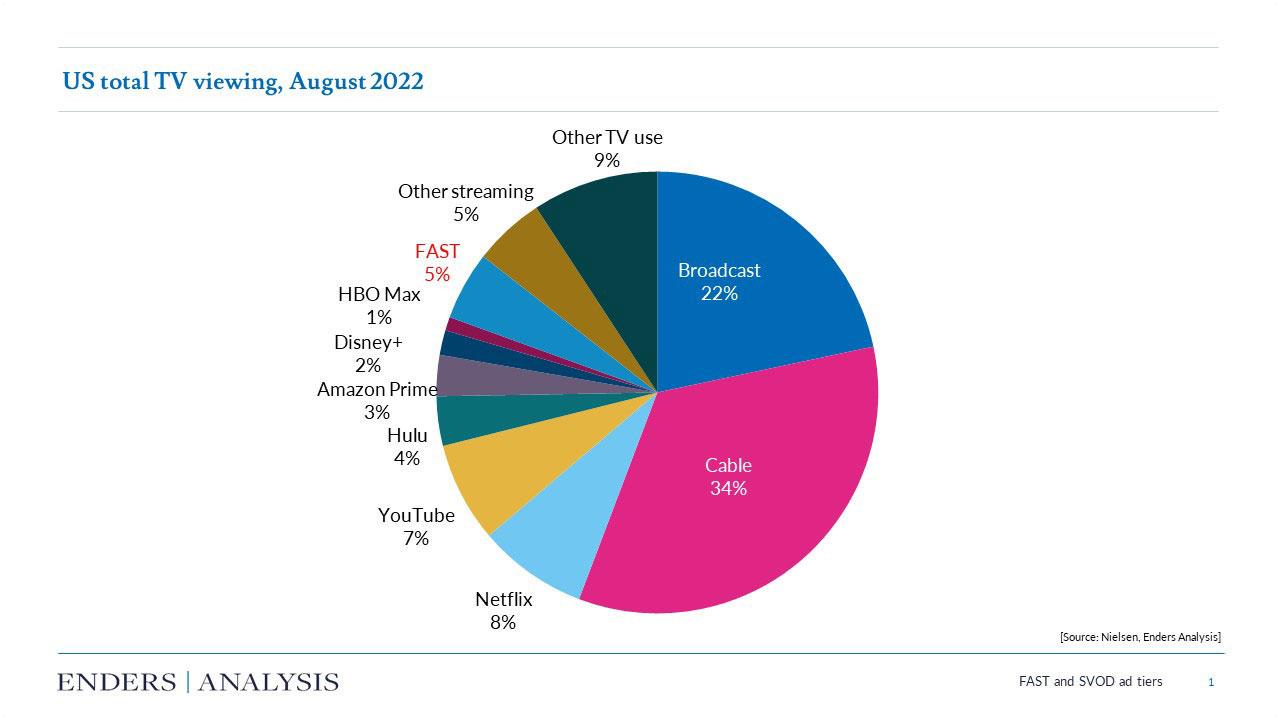 However, in the UK, viewing of these products is immeasurably small and we generally see the potential for these types of services to be constrained. The continuing strength of the UK broadcasters in the free space, the relative stability of pay-TV/SVOD ecosystems, and looming prominence legislation place new services at a disadvantage.
Furthermore, the room for long-form video viewing to grow is being challenged, making competition even more intense, as short-form services such as YouTube grow viewing on the TV set.
FAST growth in the US
It is important to understand the terminology here, as the usage of it is loose, meaning that data can be attributed incorrectly.
In the US, the emergence of free, standalone streaming services saw the creation of a new acronym, FAST—free advertising-supported streaming TV—to distinguish these offerings from others that might have an ad-supported tier that also would require a subscription as well as from predominantly short-form video platforms such as YouTube.
These FAST services have generally included both ad-supported video on demand (AVOD) libraries, alongside online linear channels (FAST channels) usually based around specific genres or even specific shows (e.g. the Romance or Baywatch channels on Pluto US) that can be constantly refreshed and calibrated for demand. Confusingly, the FAST acronym is often used to represent the online linear channels only.
This is only important because of the growth of FAST in the US—which we might assume is largely, but not solely down to the AVOD component of the services—having been misinterpreted as growth in FAST channels, which is likely occurring from a low base but not to the extent of FAST services as a whole.
The US market has traditionally been underserved with free video. Combined with the high volumes of households leaving cable opening up available viewing time, content value being moved from the networks and cable channels to subscription streaming services, and a strong educational mission on the ease of streaming by the likes of Netflix, there was a sizeable opportunity for freely-available, long-form content distributed online.
Growth of these free services in the US has been reasonably strong, now making up a handy proportion of total video viewing, which we would estimate to be about ~5% of TV use. Total streaming volumes of the major FAST services, such as Pluto TV, Tubi, Roku Channel and Peacock, are now material as are the figures for Monthly Active Users that are sporadically quoted by the various operators—Pluto TV, for example, quotes worldwide figures of 70 million, while Tubi with a smaller geographical footprint states 51 million. (We note that at least the Pluto TV numbers need to be contextualised given that the service has no login and therefore deduplication of users across multiple devices would be difficult.)
But whatever the viewing story, more pertinently, advertising revenues of these services are expanding year-on-year—for example, Paramount's Pluto TV now pulls in more than $1 billion/year (from mostly the US), while Fox's ad haul from Tubi is now over $350 million. This remains a very small component of total video ad revenue, however: we estimate that US advertising revenues from FAST services would be around $3 billion/year, dwarfed by revenues from linear and other video streamed on the TV set (including YouTube), estimated by eMarketer as $85 billion and ~$14 billion, respectively.
Major FAST services find themselves at an important juncture in the US: starting to garner a material share of the viewing pie, increasing advertising revenues and moving beyond negative perceptions of their content offerings with cautious and opportunistic slates of original content. Although initially riding the wave of desire for free content, and acting as an alternative to paid-for cable and SVOD services—with the requisite drop of quality in content and user experience—FAST services are beginning to bridge the gap with SVOD, as increasing scale makes the case for increased tech investment and original or fresher content. The arrival of ad-supported but paid-for tiers on Netflix and Disney+, which do not offer expected SVOD features such as downloads, will narrow this gap even further.
The UK: a different environment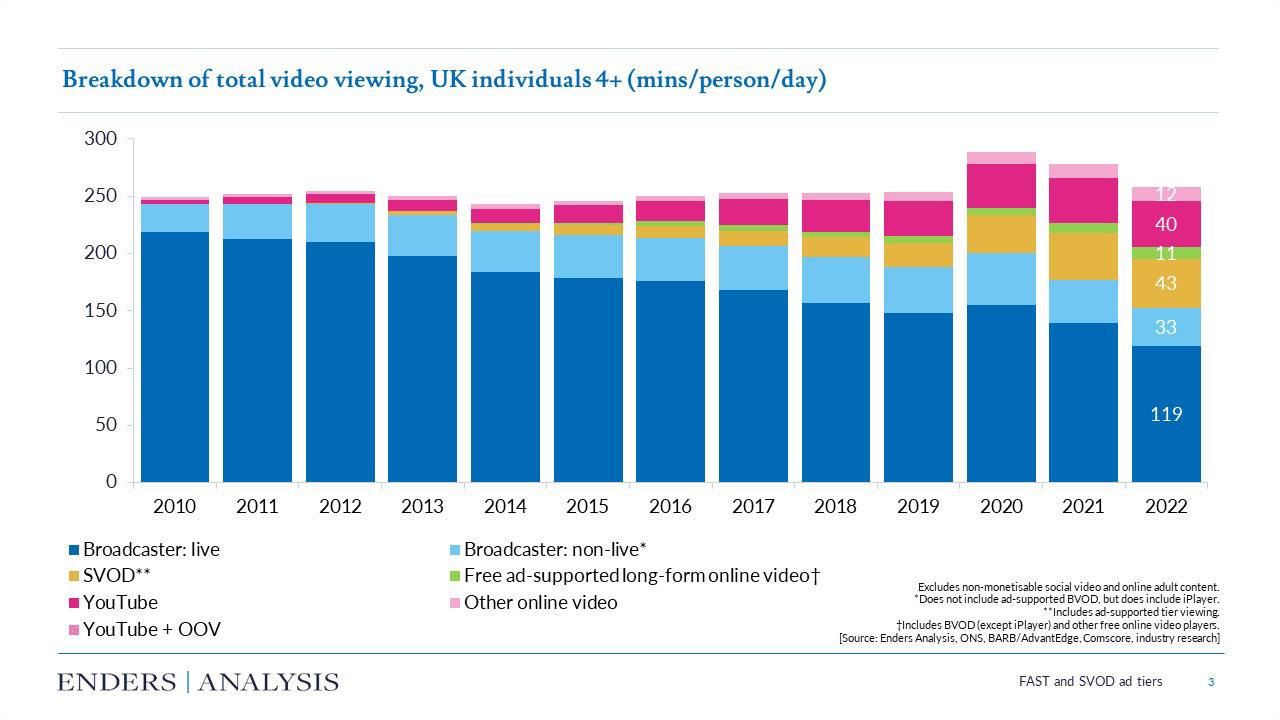 Unlike the US, the UK appears to be already well catered for in free online video—a legacy of two public service broadcasters, the BBC and Channel 4, investing heavily in the space.
Some of the 'contestable' screen time that has been released by the decline in linear television has been transitioning to the online offerings of the broadcasters, some has headed to SVOD and YouTube. Exacerbated by lockdown, we estimate that over the past five years, only about one fifth of viewing lost by the broadcasters in linear has been regained by their owned VOD services.
That doesn't necessarily mean that there is room for new free services to reach scale in the UK. Understandably, there is a connection between the UK market's propensity to pay for content and the levels of engagement with free content—although pay-TV's base in the UK is declining, due to SVOD the number of houses who do not directly pay for content has plummeted (from 36% in 2014 to 19% in 2022). This indicates lowering levels of engagement that are available for free services.
It must also not be forgotten that this is set against a backdrop where a decline in the demand for long-form content (long-form viewing is down 15% in the last decade) has heightened competition, with the UK's lower linear ad loads more difficult to cut down to create a comparatively pleasurable viewing experience than is the case in the US. 
In the US, the new ad tiers on SVOD will perceptually close the gap with FAST services—arguably increasing the perceptual value of the free offerings. But the disparity in content quality in the UK between SVOD and the non-broadcaster free services means that will not happen. Rather the opposite could occur, with the subscription component of the SVOD ad-tier appearing more reasonable, given the content that it allows access to.
Coupled with the continued investment from the UK broadcasters in their online libraries, and prominence legislation that could remove natural platform advantages, it is difficult to see a definitive use case for any other free services that suggests levels of growth outside of the small proportions of viewing time available in the reallocation scramble as linear viewing transitions online.