TV advertising spend by online-born businesses has increased by 37% since 2019
£559.9 million invested in TV in Jan-Jul 2021 by online-born businesses
Trend is seen across almost every business sector
ecommerce boom is fuelling growth in TV advertising
Online-born businesses' TV investment is on the way to being £1 billion a year in the UK alone
New analysis of TV advertising investment in 2021 has revealed that online-born businesses are significantly increasing their investment in TV advertising in the UK.
During January-July 2021, online-born businesses invested £559.9 million in TV advertising in the UK, according to figures from Nielsen for linear TV advertising spend, an increase of 37% compared with the same period in 2019.
Online-born businesses – businesses that began online, with no prior bricks and mortar presence – are the biggest category of advertisers on TV so far this year, accounting for 20% of all linear TV ad spend in Jan-Jul. This is ahead of Food (10.1% of linear TV spend), Finance (8.5%), and Entertainment & Leisure (7.2%).
Forecasts suggest TV advertising investment will finish 2021 up by as much as 18% compared with 2020, more than reversing the pandemic-induced decline of 11%.
The Nielsen figures show that online-born businesses of all shapes and sizes and in many different emerging sectors have been significantly increasing their TV advertising. For example, online used cars services have increased TV spend by 235% compared with the same period in 2019; online food delivery services are up 194%; and social media companies invested £10.6 million in TV in Jan-Jul 2021 compared with nothing during Jan-Jul 2019.   
Matt Hill, Thinkbox's Research and Planning Director: "Online-born businesses using TV has been a feature of advertising investment in recent years. But what we're seeing is a dramatic shift in momentum, a tipping point. We've seen more businesses in more categories acting with more confidence.
"And we're not just seeing toes being dipped into TV's waters. Even at launch, many have been diving in at scale with major investments. This is significant not least because so many online-born businesses are backed by venture capital – investors known for tight control over expenditure. That they are devoting sizeable budgets to TV demonstrates they buy in to what TV delivers.
"There are some clear reasons behind this boom. Online-born businesses need to use TV as a shop window for their products and services. They also benefit from TV's signalling strengths, which convey trust, quality, and credibility – attributes that are vital to the virtual. And the relaxation of booking deadlines for TV has undoubtedly helped, too. But, above all, online-born businesses enjoy TV's traffic-driving ability, something they experience in real time and can easily observe through Google analytics.
"The pandemic turbo-charged ecommerce and TV advertising has benefitted. Online-born businesses' TV investment is on the way to being £1 billion a year in the UK alone, and the frequent arrival of disruptors in so many sectors will continue to have the effect of activating whole categories as new entrants and incumbents compete to take or defend market share."
Online-only businesses TV investment by sub-category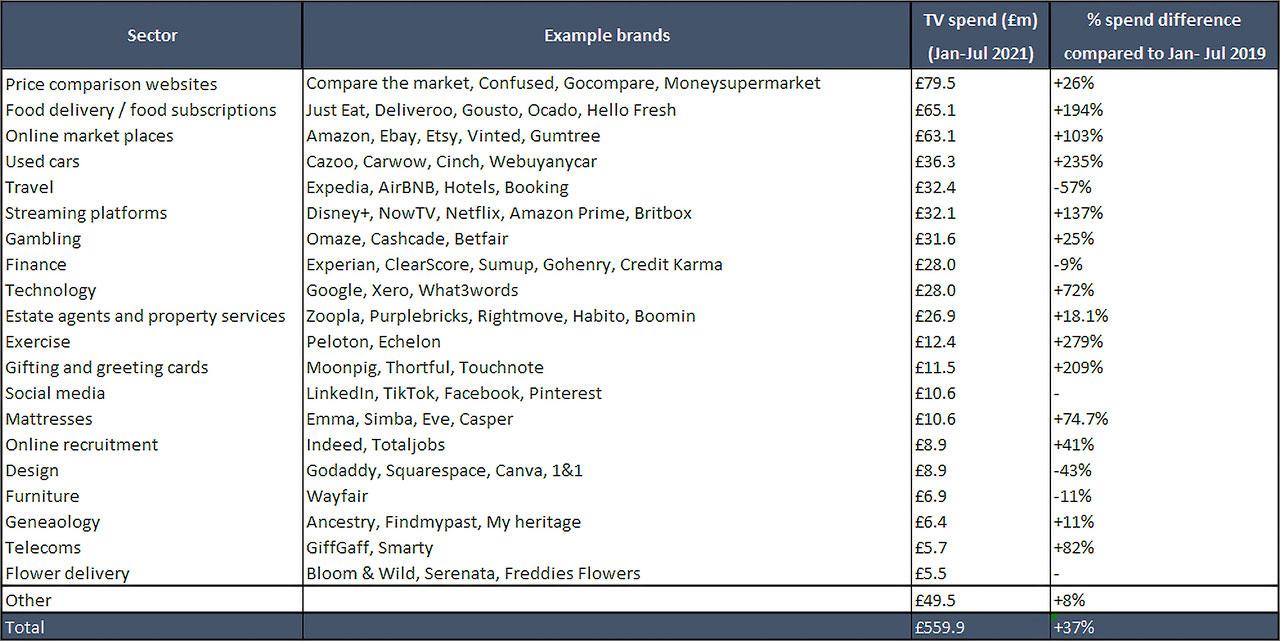 0